Pricing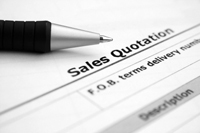 Our policy is to provide a bespoke quote for all enquiries. We firmly believe that this provides you with a fairer and more accurate costing than if we were to publish 'standard' prices for each item.
You can request a quote by clicking on the Contact US button on every product page. You can also Contact Us by phone, fax or email to request a quote.
We aim to respond to your quote request within 24 hours and, in many cases, much sooner.
Factors which we take into account when calculating your bespoke price include:
How many products in quantity you require
The colour of the product(s) you require
How many colours and positions you need to be branded on the product
How soon you need delivery / where you need us to deliver to (i.e. America, Europe or Rest of World)
Whether you need a non-standard size or completley bespoke product
Whether you need a standard or recycled product
Whether any setup, origination or tooling charges apply
Whether you need any special finishing, packing, fulfilment etc.
For certain Promotional Pens there are other factors which we take into account. These include:
The size of memory required on branded USB drives Pen
The very very complicated LOGO and Difficult imprint
The ink colour required in certain pens